Review copy provided by Xpresso Book Tours, 4.5-4.75 stars! Wow!! This book was so good and so emotional for me, I found myself white knuckling my Kindle on several occasions. If you want a steamy read with a lot of hot scenes this book is not for you. If you want a sweet fluffy read, then this book is not for you. But this is the kind of book that gets your heart racing and has butterflies swarming in your stomach. It's the kind of book that gets you angry and sad. It's the kind of book that has you rooting for the H and h so much that when you take a chapter break you're still thinking about them wondering about them; anxious to get right back to reading. This book will have you yelling at the H and h and then in the next chapter smiling. Can you tell I liked it?
Duke and Skye have been through a lot and both of them have been severely hurt (emotionally/mentally) by it. Duke wants to help Skye and get her to open up to him, he wants to get to the root of her problems all while he has some deep issues himself and will not open up to her. Duke finally gets Skye to talk and then finally befriends her and they have this connection that feels palpable while reading. But, they are both so scarred that they keep hurting each other. Skye runs and Duke shuts down...
***slight spoilers...don't read if you want to go in blind***
Quotes:
"With you and me, I don't know what anything means. We're pushing each other away and yet I don't seem to be able to let you go."
"Don't run away again."
"And don't hide again."
"I'm jealous of a dead girl I never even met. I will never have this part of his heart and it's hard for me to accept it."
Will they be able to overcome their fears and show their true feelings? Will they be able to get over their emotional baggage and be together mentally and physically? Or will they keep running and distancing themselves from the each other? And will they be able to HEAL and help "patch" each other up?
I loved this book! There are two reasons I couldn't give it the full 5 stars. 1.) Skye's parents...being a parent myself there is no way I would be able to walk away from my daughter without doing anything regarding the abuse she has endured. I don't care how hard she relented or fought me on it, it would have been reported. 2.) Duke being a smoker...I know that's just me being picky and it's in his character but (as a nonsmoker) I kept imagining smokers breath every time they kissed. :) Those were my only complaints other than that it was a wonderful book it TOUCHED me emotionally and I know I will be thinking about it for days.
If you loved Reason to Breathe
and Easy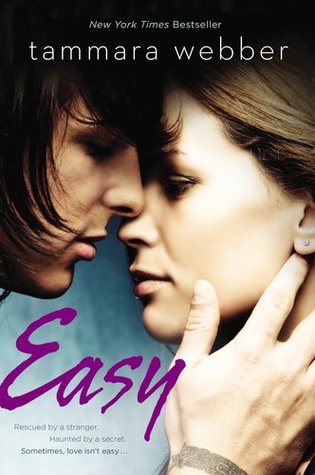 then I think you will love this book too. I devoured it! This is told all from Skye's (h's) POV.
I highly recommend!
HEA? (1) Click here if you want to know.