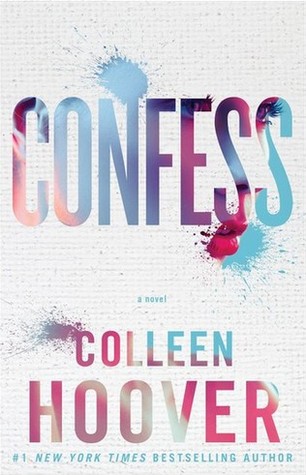 From #1 New York Times bestselling author Colleen Hoover, a new novel about risking everything for love—and finding your heart somewhere between the truth and lies.

Auburn Reed has her entire life mapped out. Her goals are in sight and there's no room for mistakes. But when she walks into a Dallas art studio in search of a job, she doesn't expect to find a deep attraction to the enigmatic artist who works there, Owen Gentry.

For once, Auburn takes a risk and puts her heart in control, only to discover Owen is keeping major secrets from coming out. The magnitude of his past threatens to destroy everything important to Auburn, and the only way to get her life back on track is to cut Owen out of it.

The last thing Owen wants is to lose Auburn, but he can't seem to convince her that truth is sometimes as subjective as art. All he would have to do to save their relationship is confess. But in this case, the confession could be much more destructive than the actual sin…
My Review
5 stars! (of course)
Do you believe in fate?
How does Colleen do it? She just keeps coming up with the most unique story lines. I think she is one of the most talented authors in her genre right now. Every time I read one of her books she blows me away. Brilliant! She has taken different aspects of art and incorporated them in her novels...poetry (Slammed), music (Maybe Someday), and now painting (Confess).
In every book she writes she has me laughing and crying. I love her humor and she throws it in just when you need it. The beginning of this book had me in tears in normal Colleen fashion. I thought she loves this she loves bringing theses emotions onto her readers with every book she writes. Her books make you
feel.
I don't want to be cliche but I have to, OMG! (if you don't get it you will when you read it.) OMG this book was so good. I knew I was going to love Owen (H) right away when he was talking about Hannah and the anagrams. Just like how I knew I would love Auburn (h) because of her persistence.
Owen is the owner of a art gallery and painter himself, he uses peoples anonymous confessions as his muses for his pieces. And some of these confessions are killers, these confessions are actually real too. Colleen had collected anonymous confessions from people to write this book.
Owen and Auburn both have secrets of their own and before they can move forward they need to straighten up their own lives. Only moving forward isn't going to be easy no matter how much you feel for the other. Confessions need to be told, but what's best left unsaid? And will the the people in their lives allow them to move on with each other?
Auburn was young and needed to do what she thought was best for her so she allowed herself to be manipulated not fully realizing that it was happening. She had to stay away from Owen no matter what her heart wanted. One of the most touching parts of this book to me was the Target parking lot. My eyes instantly welled up.
"I keep my eyes focused on Owen long enough to see him lift a hand to his heart and clench it in a fist."
"I inconspicuously lift my fist to my own chest. Our eyes remain locked until they can't anymore."
God I'm welling up writing that out and thinking about the moment.
I don't know what else to write without spoiling anything but I love Colleen's words I love love her heroes. She doesn't need to write cocky alpha males she writes them real and flawed but not as a**holes. Love that! This book is well worth it and I bought both paperback and ebook because you get actual prints in the paperback of the pieces that pertain to the confessions in the book! How awesome is that?
With that I'll leave you with my favorite quote.
"I'm scared I'll never feel this again with anyone else," I whisper. He squeezes my hands. "I'm scared you will."
HEA? (2)
<<<click here if you want to know.