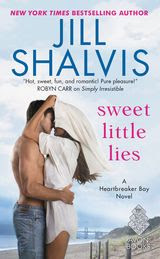 Dear Friends,

I've been dying to share sexy Finn O'Riley with you and finally Sweet Little Lies is here! It all started with a deep yearning I had to write about group of incredibly tight-knit friends who are more like ... a pack of kittens. You know what I mean, right? They love and fight and bicker amongst the ranks -- but heaven help the outsider who tries to hurt one of them. The dynamics of such a tight group of to-the-death friends has always drawn me, and I'm hoping it draws you too. :)

And then there's one very important character in particular – San Francisco! I've always wanted to set a series there with the adorable rows of Victorian houses, the gorgeous bridges, the beaches, the fun city itself. We start out in an old warehouse building that's been renovated, with a fountain in the courtyard that grants wishes – sometimes. Mostly at the most inconvenient times.

So. Welcome to Heartbreaker Bay. In this first book we've got Pru Harris, a sweet heroine with a secret. Add Finn, a tough hero who isn't one for hidden agendas. And that pretty much equals rough seas ahead in Sweet Little Lies.

Following soon is The Trouble with Mistletoe, coming Oct. 2016, so stay tuned!

So take care all of you, and I look forward to hearing what you think of Sweet Little Lies!

Best,
Jill

p.s. For more info on this book and all my others, you can find me at www.jillshalvis.com.