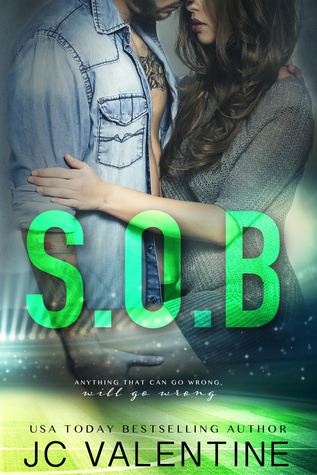 Synopsis:
Levi Black is an s.o.b.

Born with a silver spoon in his mouth, he's a pretentious, obnoxious, womanizing jacka** who thinks the world revolves around him.

He wouldn't be wrong.

A famous soccer player, his skills on and off the field have won him medals, trophies, women, and the cover of every heartthrob magazine in the country. He's broken nearly every bone in his body and a few hearts along the way, including mine—his stepsister—and lived to tell about it.

One night changed everything, and I've avoided him like the plague ever since. Just long enough to finish college, to bury the hurt, and to outrun the memories. But now that's all changed. I'm back, and there's no more running.

My hands are supposed to be my livelihood, but now they're my curse. Levi's reckless ways have landed him in a sticky situation, and his father has given me an offer I can't refuse. One month, and all I have to do is put my hands on his body. Easier said than done. The problem is, even though I know it's bound to bite me in the a**, I can't bring myself to say no to the s.o.b.
My Review: (ARC provided)
3.5 stars
I liked this book, I was invested in it and I can say for certain that if I hadn't read other stepbrother romances I may have even loved it. It just seemed familiar to me. I loved that Levi (H) was a soccer player though. Vista (h) was a great character she stood her ground even though Levi on many occasions tried to break her. It was hard for her to deny him but she had been hurt by him in the past and it took her four years to get over it.
When her wealthy stepfather offers her a job opportunity that will help pave the way for her career she can not say no. The only problem is she has to work with the one person she has tried to get over. Old feelings come rushing back and she is determined to keep them bottled up.
Levi is cocky and he is annoying but we learn that maybe Levi isn't the jerk he comes across as. As soon as Levi sees Vista he makes it is mission to "get" her. She on the other hand tries to stay away. He pushes and she pulls. Will all the pushing finally take it's toll on her? Will she give in to Levi and risk her job in the process?
I really liked Vista's character, Levi on the other hand I had to warm up to. He was sometimes a little too cocky for me. I think as we get to know him more we see that a lot of it is just a cover up. His dad is a horrible person and the more we learn about their relationship the more I sympathized with Levi. I was so happy when he finally stood up to him. I think I fist pumped the air.
If you haven't read any or many stepbrother romances I recommend giving this book a try. I think with the subject it's a hard mold to break.
HEA? (3)<<<click here if you want to know.