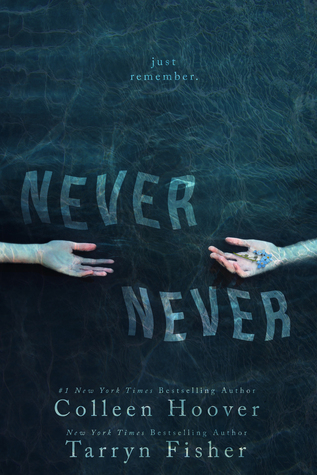 Synopsis:
Best friends since they could walk. In love since the age of fourteen. Complete strangers since this morning.
He'll do anything to remember. She'll do anything to forget.
My review
5 stars!
What a unique and intriguing story!
Whoa!! I need the next book. I hate hate hate cliffhangers and was forewarned going into it so I only have myself to blame for the funk I'm in right now. If I don't know the book is going to be a cliffhanger I usually will deduct a half a star just because I can't stand the anticipation, but everyone was warned so I give it the full five stars because of that. Okay so where do I begin? Well first off two of my favorite authors collaborated on a book so that speaks for itself. I have given both of these authors five stars on every single book they've written, and now another five.
Never Never blew me away. I loved the mystery behind it, the romance and the WTF? Is this amnesia? paranormal? supernatural? some superior being? Are they alive or dead? These are all the questions running through my head right now. And I love what it's doing to me.
The collaboration was interesting because you could definitely tell who wrote what but it blended together so smoothly and it really made you believe the two separate characters. There is not much I can write without giving things away, this one you need to go in blind. Now I know why we have the blurb we do. I am so excited to read the next book and to see what craziness Colleen and Tarryn take us on. I really believe Silas and Charlie should be together but who knows? Anything could happen to change our minds especially when you have the two of them writing together. I know they are evil laughing at all of us right now! ;)
I highly recommend!