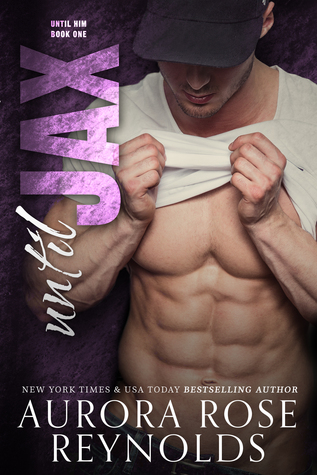 Ellie Anthony isn't looking for love. She isn't even looking for a man, but when Jax Mayson insists on keeping her and her daughter safe, she's left with no choice but to trust him. Now she just hopes she doesn't get hurt when she falls hard for a guy who's known for breaking hearts.

Jax Mayson knows that Ellie is his BOOM the moment he sees her. When he finds out she has a daughter, he realizes he wants a family, and he will do whatever is necessary to keep both of his girls safe, even if that means facing the demons from his past.
I have been reading Aurora Rose Reynolds for a while and I absolutely love her! Until Jax is the first book in the Until Him series but the second book Aurora has written that follows the children of the couples from the Until Series. Until Lily was my favorite book in the Until Series, and my love for Jax Mason began there. Ellie is introduced in Until July (the first book in the Until Her series) and the tease Aurora leaves you with at the end of the book left me itching to get my hands on Jax.
If you love a strong, sweet Alpha male, this is definitely a good read for you. Aurora creates an Alpha male impossible to not fall in love with. I love how Jax is a strong alpha male, but is soft and sweet for all to see too. Ellie is so easy to love and root for, and her story will tug at your heart strings.
I love they way the story builds but is woven together with laugh out loud moments that you stop laughing at. As I have found with all of Aurora's books, she gives you a beautiful journey that will leave you all warm and happy inside and lets be honest, who can't love a story where there is a scene with "cockporn balls". (YES, you read that right!)
Until Jax can certainly be read as a stand alone, but I highly recommend the entire Until Series as well as Until July. These are books that will give you all the warm and happy feels you are craving for!
About the author: