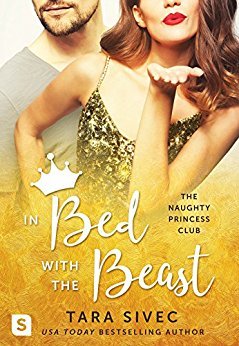 Synopsis:
A tale as old as time: she needs a place to stay, he's a grump with a secret and an extra room...can love find a way?
Meet the Naughty Princess Club, a series from
USA Today
bestselling author Tara Sivec that brings readers to Fairytale Lane and the hilarity—and romance—that three women fall into once they decide to strut their stuff and bring on their own happily ever after.
Living in her overprotective dad's basement, shy Belle lives her life through books. Being a part of the Naughty Princess Club is the first adventure she's ever had, plus she desperately needs the money to save one of her favorite places - the local library.
But when her new friends and new business gets her kicked out of her dad's house, Belle is rescued by the surly Vincent "Beast" Adams who invites her to be his house guest until she gets back on her feet. Despite his attitude problem and
long
list of rules, Belle finds herself warming to the muscled man with a penchant for growling and starts seeing a gentle side to him that wasn't there before.
Yet there's a room that Beast keeps locked and Belle keeps getting hints that Beast is hiding something…can a nerdy librarian tame the beast or will their romance be over before it has a chance to blossom?
My review (copy provided)
4 stars!
This was such a great story and spin-off of the ever popular tale Beauty and the Beast. It was fun, sweet and sexy, Tara adds her trademark humor to it giving us laughs throughout.
Vincent aka Beast is a bouncer at the club where Belle is trying to eventually strip down in. She needs to earn money to keep her library going. Belle has never thought much of Beast, he's big, broody and not the most friendly person.
Belle has been kicked out of her home and living in her library that she's trying to keep afloat. Beast keeps showing up and finally calls her out on her living arrangements offering her his home.
After some awful first dates, Belle can't deny the chemistry her and Vincent/Beast have, she comes up with a plan to practice her skills on him. They also have much more in common than she would've thought but he still isn't the most likable person. Will Beast help Belle with her situation and break out of his hard shell and show Belle the person he is under it all. He has secrets, and they could get someone hurt, he doesn't want it to be her.

Like I said I'm a big fan of RomCom and Tara is one of the best. I can't wait to read the next book in the series!